Sherry Rhyno, Director (Incorporator and Past President) of the Board of Directors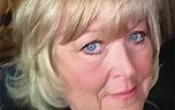 SHERRY RHYNO is one of the three original incorporators of North TV. She has served as North TV President, Vice President, Treasurer, Clerk, and marketing specialist.  Sherry was chosen for her professional background in media broadcasting and a thirty year career as Dean, Marketing Director, and Alumni President at the University of Massachusetts.  Today she is owner/director of Gallery 31 Fine Art in Orleans, MA, one of the premiere galleries on the Lower Cape; she paints in oil and pastel. 
Sherry served as executive producer of multi-media productions for UMass and oversaw advertising and graphic design.  She hosted live call in talk shows on Boston cable tv and was instrumental in the creation of WUMB public radio at 91.9FM in Boston where she hosted radio programs.
Sherry's volunteer service to North townspeople includes chairing the elected Charter Commission from 2002-2004 and co-founding the Neighbors Helping Neighbors non-profit local charity with her husband, Selectman John Rhyno.